Good morning. In today's AP Morning Wire:
As US vaccine rolls out, nation's deaths surpass a staggering 300,000.

Poor nations face wait for vaccines; London under tightest restrictions.

US Electoral College makes it official: Biden won presidency, Trump lost.

Year ends with bad blood between US and Iran, as well as Iran and Israel.



TAMER FAKAHANY
DEPUTY DIRECTOR - GLOBAL NEWS COORDINATION, LONDON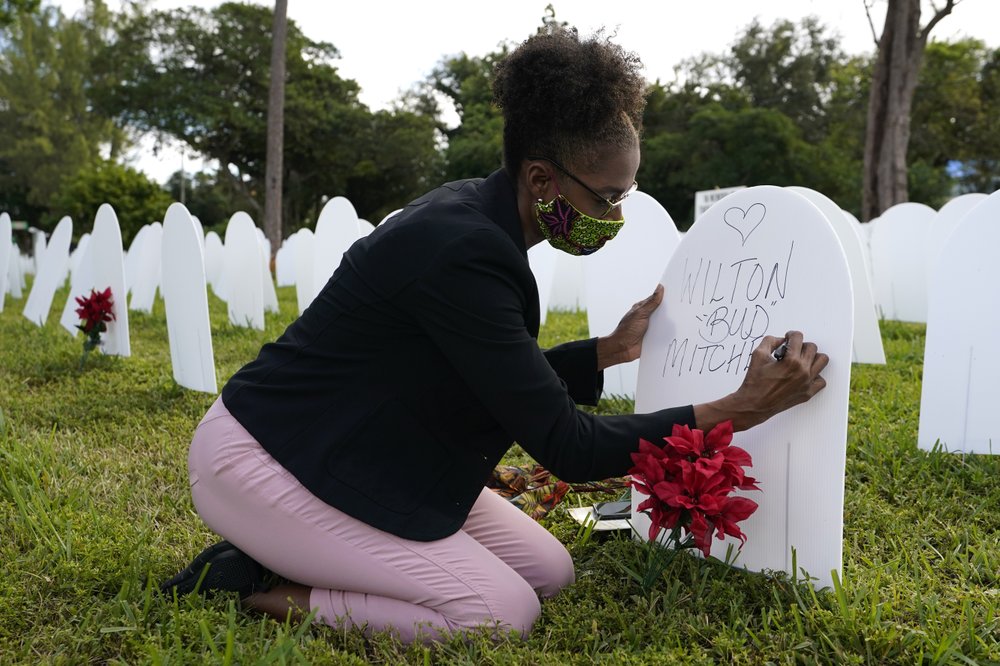 COVID-19 vaccine comes too late for America's 300,000 dead; US health workers start getting vaccination shots
The cavalry was on its way this week after months of a devastating pandemic, but it came too late for the more than 300,000 people who have already died from coronavirus in the United States.
The vaccine that could help conquer the virus began rolling out on the same day the country reached this grimmest of milestones.
"The numbers are staggering -- the most impactful respiratory pandemic that we have experienced in over 102 years, since the iconic 1918 Spanish flu," said Dr. Anthony Fauci, the government's top infectious-disease expert.
It took four months for the virus to claim its first 100,000 American lives. But with cold weather driving people inside, where the virus spreads more easily, months of reluctance in many states to require masks, and an increase in gatherings over the holidays, some public health experts project 100,000 more could die before the end of January, Adam Geller and Heather Hollingsworth report.
U.S. Vaccine Push: The largest vaccination campaign in U.S. history got underway with health workers getting the first shots. "Relieved" was the reaction of one nurse who got vaccinated. All will need another shot in 21 days. The injections begin an effort to try to beat back the coronavirus — a day of hope amid grief as the nation's death roll hit another terrible milestone. How well initial vaccinations go will help reassure a wary public when it's their turn next year, Lauran Neergaard reports.
Hundreds more U.S. hospitals are also gearing up to vaccinate their workers, and federal health officials are reviewing a second vaccine. About 400 hospitals and other health care facilities will get their first shipments of the Pfizer vaccine today. State officials are rationing the first shots to front-line health workers and nursing home residents, Matthew Peronne reports.
The Food and Drug Administration is set to publish its analysis of a second potential COVID-19 vaccine, developed by Moderna. If cleared, U.S. officials predict they will have supplies to give 20,000 first injections by year's end.
VIDEO: US health workers start getting COVID vaccine.
EXPLAINER: What to know about coronavirus vaccination in the US.
Public Health Leader Departures: An investigation has found that at least 181 U.S. public health leaders in 38 states have resigned, retired or been fired since the coronavirus pandemic began. The investigation by the AP and Kaiser Health News shows that at the same time, lawmakers in 24 states have crafted laws to weaken public health powers. Many public health officials say they can't do their jobs when they are undermined by political leaders. The public health departures signify an enormous brain drain just as the U.S. rolls out its biggest vaccination operation ever and faces what are expected to be the worst months of the pandemic. This exclusive report is by Anna Maria Barry-Jester, Hannah Recht, Michelle R. Smith and Lauren Weber.
In their own words: Public health officials on the frontline.
Which winter sports are safest to play during the pandemic? The AP is answering Viral Questions in this series.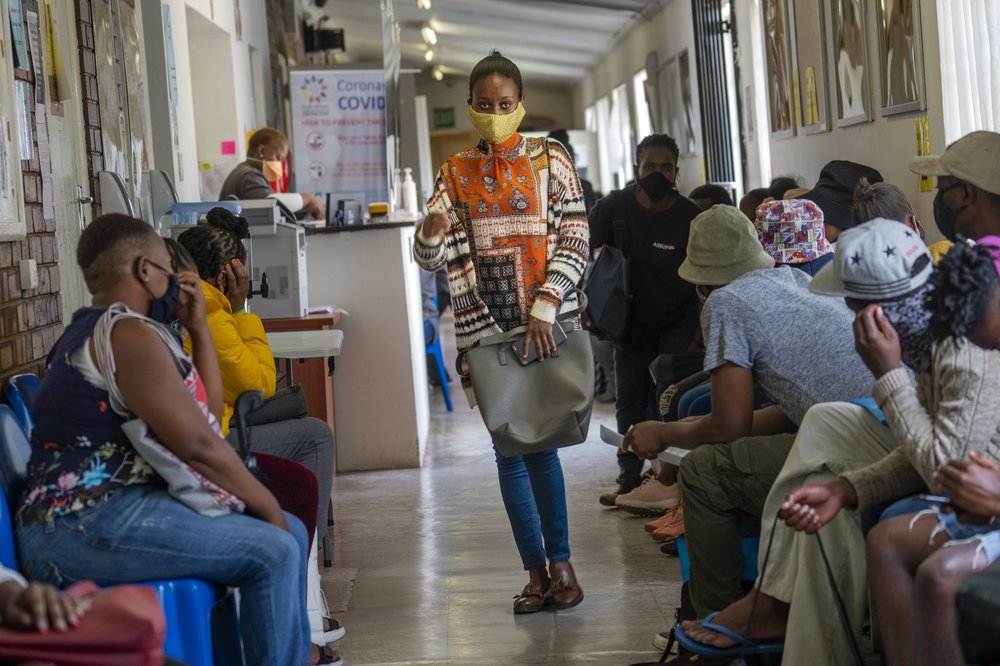 Poor countries face long wait for vaccines despite promises; London faces U.K.'s tightest lockdown restrictions, sees new virus variant
''The whole call for global solidarity has mostly been lost," the World Health Organization's vaccines chief said during an internal discussion, a recording of which was obtained by the AP.
It's clear the pandemic has further exposed vast inequities that exist between countries and could now come at a punishing cost for people around the world. Some experts say the chances that vaccine shots will be shared fairly between rich nations and the rest are fading fast.
With Americans, Britons and Canadians rolling up their sleeves to receive coronavirus vaccines, the route out of the pandemic now seems clear to many in the West, even if the rollout will take many months. But for poorer countries, the road will be far longer and rougher, report Aniruddha Ghosal and Maria Cheng.
The ambitious initiative known as COVAX created to ensure the entire world has access to COVID-19 vaccines has secured only a fraction of the 2 billion doses it hopes to buy over the next year, has yet to confirm any actual deals to ship out vaccines and is short on cash.
Britain's Lockdown: London and its surrounding locales will be placed under the highest level of restrictions beginning Wednesday as infections rise rapidly in the capital. The government said it must take swift action after seeing "very sharp, exponential rises" in cases, with some areas doubling the number of infections every seven days. Under Tier 3 restrictions, the most stringent level, people can't socialize indoors, and bars, pubs and restaurants must close except for takeout. Sylvia Hui reports from London.
The U.K. health secretary also said officials have identified "a new variant of coronavirus which may be associated with the faster spread in the south of England." The World Health Organization is among those studying the new virus strain.
Taiwan has set a goal to vaccinate 60% of its population, 15 million people, with a COVID-19 vaccine. The country has signed an agreement with COVAX to purchase a COVID-19 vaccine, but is also actively in talks with vaccine companies as well.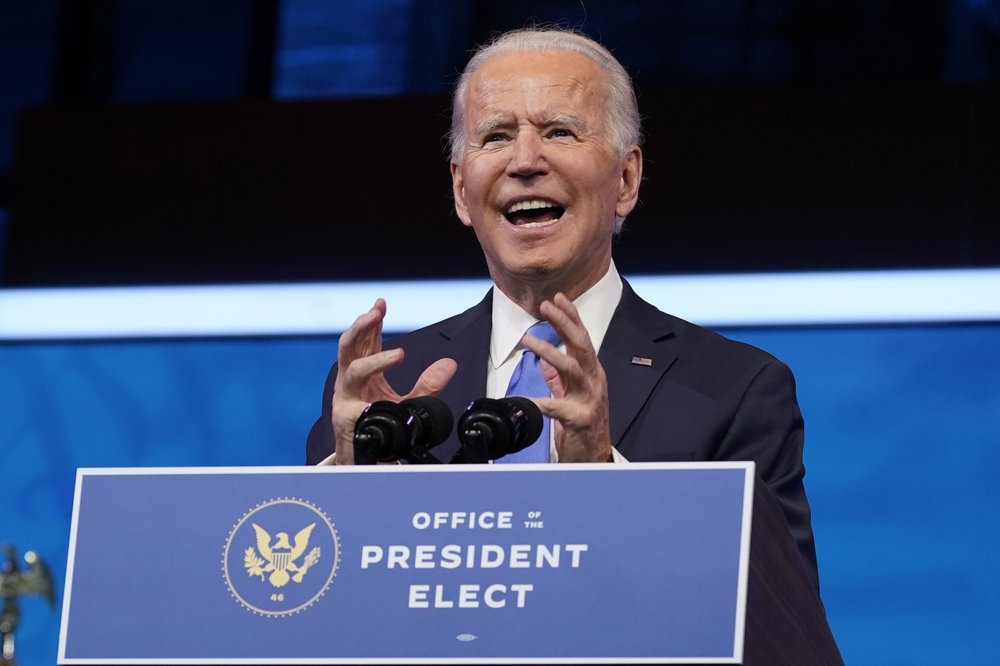 AP PHOTO/PATRICK SEMANSKY
Electoral College makes it official: Biden won, Trump lost; Biden says 'democracy prevailed'; Under relentless attack from Trump, US institutions bend but don't break
The U.S. Electoral College has formally confirmed that Joe Biden will be the nation's next president, giving him a solid electoral majority of 306 votes to affirm his victory in last month's election.
The state-by-state voting took on added impetus this year because of Donald Trump's refusal to concede he had lost, Mark Sherman reports.
Heightened security was in place in some states as electors met under various threats. The results will be sent to Washington and tallied in a Jan. 6 joint session of Congress.
For all the defeated Republican president's objections, there was little suspense and no change among all the electoral votes allocated to Biden and Trump in last month's popular vote.
President-elect Biden pointedly criticized Trump for threatening core principles of democracy even as he told Americans that their form of self-government ultimately "prevailed," Aamer Madhani and Will Weissert report.
Biden was blunt in critiquing the damage done by Trump's baseless allegations that the contest was stolen. Such arguments have been roundly rejected by judges across the political spectrum, including the justices at the Supreme Court.
Biden said democracy has been "pushed, tested, threatened." Biden and his team now hope the formal victory in the Electoral College will help the country unify and accept his presidency.
VIDEO: Biden says 'Now it's time to turn the page...to heal.'
VIDEO: Biden says US democracy 'resilient, true and strong.'
Democratic Institutions: America's democratic institutions, facing unprecedented strain from Trump as he fights to hold power despite losing, have so far withstood the barrage and are holding firm. Electors in all 50 states backed the will of their voters to confirm Biden's victory. But Trump has vowed not to stop, putting pressure on congressional Republicans who have to give final approval to the election on Jan. 6, Julie Pace, Thomas Beaumont and Brian Slodysko report.
Republicans: For the first time, a groundswell of leading Republicans finally say Biden is the winner of the presidential election. They announced their views after the Electoral College vote affirmed Biden won. Senate Majority Leader Mitch McConnell was notably silent. But a number of senators said the time has come to move on. They're essentially abandoning Trump's assault on the outcome, Lisa Mascaro reports.
Barr Departure: Attorney General William Barr, one of Trump's staunchest allies, is departing amid tensions over his boss' baseless claims of election fraud and the investigation into Biden's son. Barr will leave before Christmas and submitted his letter of resignation. Trump has publicly expressed his anger about Barr's statement to the AP earlier this month that the Justice Department had found no widespread fraud that would change the outcome of the election, Michael Balsamo reports.
Putin's Congrats: Russian President Vladimir Putin has congratulated Biden on winning the presidential election after weeks of holding out. He is one of the last world leaders to congratulate Biden. The Kremlin maintained Putin was holding off on doing so until the election results were officially confirmed.
Bad Blood: US, Iran and Israel
The year started with the U.S. and Iran careening dangerously close to an all-out conflict that would have engulfed the Middle East. In the waning days of the Trump administration, there continues to be plenty of bad blood between Washington and Tehran, as well as Iran and Israel.
The U.S. government for the first time formally blamed Iran for the presumed death of retired FBI agent Robert Levinson. Officials publicly identified two Iranian intelligence officers believed responsible for his abduction, Eric Tucker reports.
Levinson disappeared in Iran under mysterious circumstances more than a decade ago. U.S. officials in March said they had concluded that he was dead. U.S. diplomats and investigators have long said they thought he was taken by Iranian government agents, The announcement was the most definitive assignment of blame to date.
Iran has long denied having any information on Levinson.
The development is just the latest in a series of increasingly aggressive Trump administration actions against Iran since the president withdrew from the landmark 2015 Iran nuclear deal two years ago.
It reached a crescendo with the assassination of the revered Revolutionary Guard commander Qassem Soleimani by U.S. drone strike in Baghdad in January, which drew retaliatory strikes aimed at U.S troops in Iraq.
In the meantime, Iran's President Hassan Rouhani has said that Israel was behind the killing of a scientist who founded the Islamic Republic's military nuclear program in the 2000s.
He says the scientist was killed in an effort to start a war in the last days of Trump's presidency. Rouhani's comments mark the first time he has directly accused Israel of carrying out the killing of Mohsen Fakhrizadeh late last month, Nasser Karimi reports from Tehran.
Israel, long suspected of killing Iranian nuclear scientists over the last decade, has repeatedly declined to comment on the attack.
Ten years ago, an uprising in Tunisia opened the way for a wave of popular revolts against authoritarian rulers across the Middle East known as the Arab Spring. For a brief window as leaders fell, it seemed the move toward greater democracy was irreversible. Instead, the region saw its most destructive decade of the modern era. Syria, Yemen, Libya and Iraq have been torn apart by wars, displacement and humanitarian crisis. Other countries, like Egypt, have rolled back into repression greater than before. But activists and observers say the yearning that fueled the uprisings, for greater rights and better governance, is still alive.
Governments and major corporations worldwide are scrambling to see if they, too, were victims of a global cyberespionage campaign. The hack penetrated multiple U.S. government agencies and involved a common software product used by thousands of organizations. Russia, the prime suspect, denies involvement. Cybersecurity investigators say the hack's impact goes beyond U.S. agencies, which included the Treasury and Commerce department, though they haven't yet disclosed which companies and other governments were targeted.
Thousands of people gathered in the Chilean region of La Araucanía to witness a solar eclipse, rejoicing in the rare experience even though visibility was limited because of cloudy skies. Skies were clear in northern Patagonia in Argentina, where people also watched the moon briefly block out the sun and plunge daytime into darkness. Many people wore masks to curb the spread of COVID-19, though they crowded together in some places in Pucón and in other areas of La Araucanía, 430 miles south of Santiago, the Chilean capital.
Major League Baseball's Cleveland Indians are changing their name -- but they don't know to what or when. After months of discussions with a variety of groups, including Native Americans who have long protested the team's use of a moniker and symbols that many deem racist, the team is dropping the name it has used since 1915. Owner Paul Dolan told the AP that the team will continue to be called the Indians in 2021 while new names are being considered. He said the team will not adopt an interim name.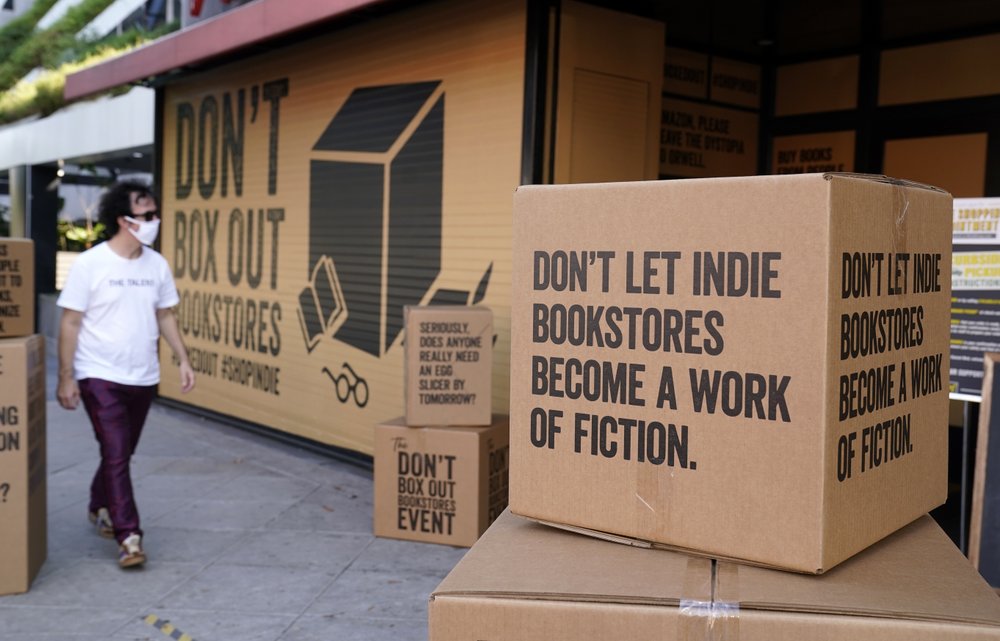 GET THE APP
Download the AP News app to get breaking news alerts from AP on your phone, tablet or watch.
Unsubscribe About us

2020 THE ASSOCIATED PRESS. ALL RIGHTS RESERVED.

200 Liberty St. New York, NY 10128