Good morning. In today's AP Morning Wire:
One week to go: Biden on offense in Georgia, Trump targets Midwest.

Virus deaths rising again in US; Europe battles virulent surge.

Barrett confirmed for Supreme Court, takes oath at White House.


Muslims call for French goods boycott to protest prophet caricatures.



TAMER FAKAHANY
DEPUTY DIRECTOR - GLOBAL NEWS COORDINATION, LONDON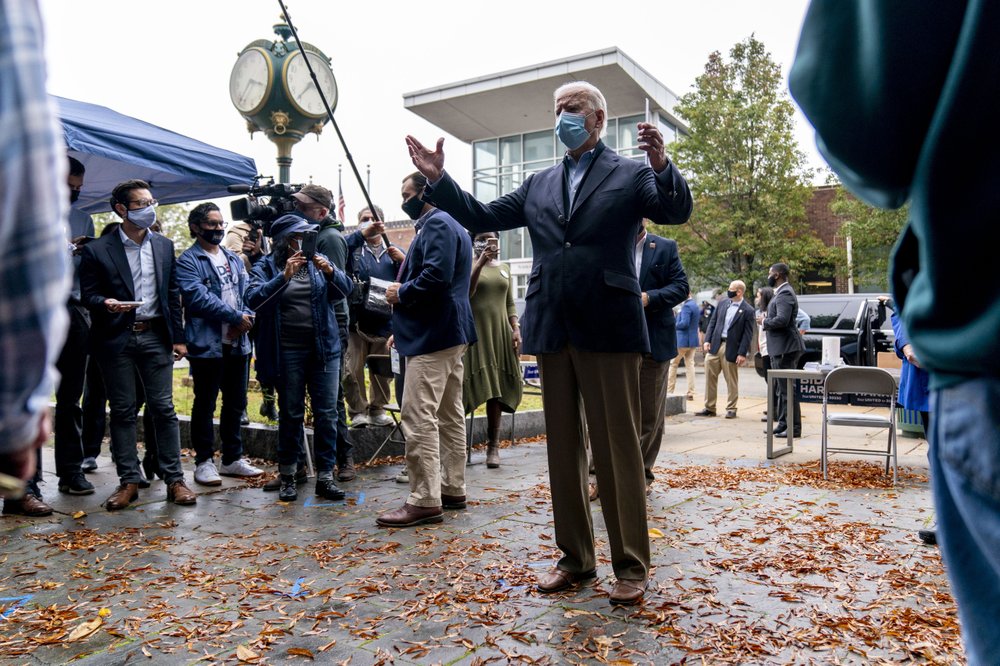 With one week to Election Day, Biden goes on the offensive in Georgia while Trump targets the virus-hit Midwest
It's only seven days until the most consequential U.S. presidential election in living memory as the pandemic holds much of the nation in a vise grip.
Joe Biden plans to use the final week before Election Day to go on offense, heading today to Georgia and planning travel that may put Donald Trump on defense in other states he won four years ago.
The Democratic presidential nominee plans to hit Florida, Iowa and Wisconsin after a pair of stops in Georgia and is dispatching his running mate, Sen. Kamala Harris, to Arizona and the largest red state, Texas, Will Weissert, Alexandra Jaffe and Kevin Freking report.
The aggressive schedule is a sign of confidence by Biden's team, which is trying to stretch the electoral map and open up more paths to winning the needed 270 electoral college votes. But Biden's campaign is mindful of overreaching.
Trump is staying focused on the "blue wall" states that he flipped in 2016: Pennsylvania, Michigan and Wisconsin, where he'll return today just three days after an earlier rally.
VIDEO: Biden says Trump is the 'worst' person to lead the US in a pandemic.
Virus Shadows Campaign Trail: The coronavirus is getting worse in states that Trump needs the most. The upper Midwest is bearing much of the brunt of new infections surging across the U.S. That includes Wisconsin, where Trump is fighting to catch Biden in a state Trump narrowly won in 2016. Also seeing a virus surge is Iowa, where Trump is now in a toss-up race with Biden after carrying the state by 9.4 percentage points four years ago. Both states are in the top 10 of those with the fastest-growing number of cases per capita over the past two weeks, Thomas Beaumont reports.
Wisconsin Absentee Ballots: The Supreme Court is siding with Republicans to prevent Wisconsin from counting mailed ballots that are received after Election Day. In a 5-3 order, the justices on refused to reinstate a lower court order that called for mailed ballots to be counted if they are received up to six days after the election. Last week, the high court preserved a Pennsylvania state court order extending the absentee ballot deadline but voted the other way in the Wisconsin case.
Immigration: Refugees from war-ravaged countries like the Congo and Iraq have seen their protections in the U.S. fade over the last four years as the Trump administration chips away at policies to protect some of the world's most vulnerable people. Ahead of an election that will determine who could influence the outcome of their cases, those given humanitarian protections still struggle to resettle in America, bring their families or remain in the country. Trump has pushed to reduce both illegal and legal immigration, while Biden favors more generous refugee policies, Anita Snow and Julie Watson report.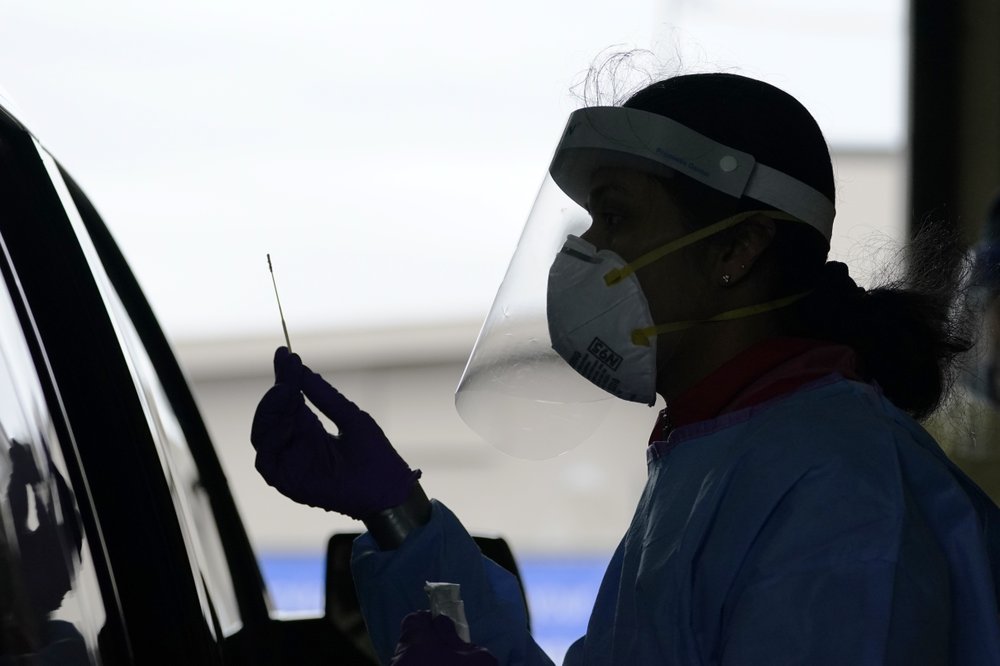 Coronavirus deaths on the rise in US; Europe also faces deadly surge, soaring infections
Deaths per day from coronavirus are rising sharply again in America, just as health experts had feared, and cases are climbing in nearly every state, despite assurances from President Trump that "we're rounding the turn, we're doing great."
Average deaths per day across the U.S. rose 10% over the past two weeks, from 721 to nearly 794, according to data from Johns Hopkins University.
Confirmed infections per day are rising in 47 states, and deaths are up in 34 states, Lisa Marie Pane and Mike Stobbe report.
Europe's Resurgence: The continent's confirmed death toll has surpassed 250,000. A French doctor has warned that his country has "lost control of the epidemic," a day after French authorities reported more than 52,000 new infections. The grim assessment came as nations across Europe enacted more sweeping restrictions like curfews to slow surging infection rates, Angela Charlton and Mike Corder report.
Spain, the first European country to surpass 1 million confirmed cases, declared a state of emergency which includes a nationwide overnight curfew,
Also:
An Unusual Halloween: For Americans, 2020 has been a year when fear and death commandeered front-row seats in life. There is a pandemic, a fundamental reckoning about race and chasm-like political divisions. So how can they enjoy Halloween, a holiday whose existence hinges on turning fear and death into something fun? Can being scared — under certain, controlled conditions — still be fun? The answer seems to be yes, AP National Writer Ted Anthony reports.
Can I celebrate Halloween during the pandemic? The AP is answering Viral Questions in this series.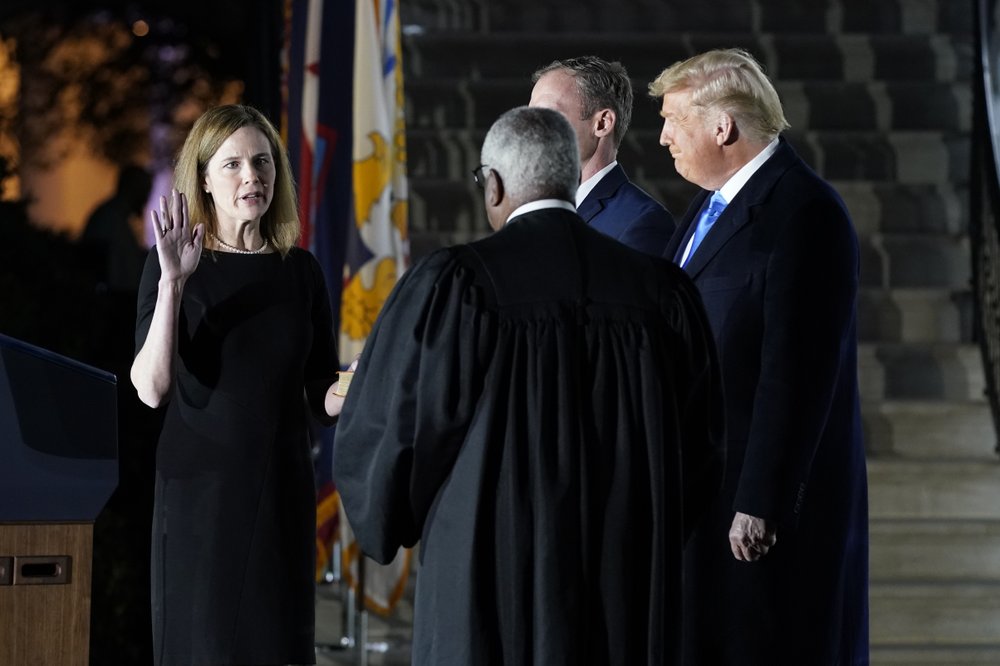 AP PHOTO/PATRICK SEMANSKY
Barrett confirmed by a divided Senate for the Supreme Court, takes oath at Trump's White House
Amy Coney Barrett was confirmed to the Supreme Court by a deeply divided Senate, with Republicans overpowering Democrats to install President Trump's nominee days before the election and secure a likely conservative court majority for years to come.
Trump's choice to fill the vacancy of the late liberal icon Ruth Bader Ginsburg potentially opens a new era of rulings on abortion, the Affordable Care Act and even his own election, Lisa Mascaro reports..
Trump held a primetime swearing-in event at the White House and called it "a momentous day for America."
VIDEO: Barrett takes an oath to join Supreme Court.
Democrats were unable to stop the outcome, Trump's third justice on the court, as Republicans race to reshape the judiciary. Barrett, 48, will be able to start work today, her lifetime appointment as the 115th justice solidifying the court's rightward tilt.
Scene: This time they mostly wore masks. It's been only a month since Trump's packed Rose Garden ceremony to announce he was nominating Barrett turned into a coronavirus superspreader event. But when Barrett returned to the White House to take her constitutional oath, the celebration was moved to the broader South Lawn, chairs for guests were spread about 6 feet apart, and the mask-wearers greatly outnumbered those who declined to cover their faces, Aamer Madhani and Mary Clare Jalonick report.
Key Court Issues: Barrett's first votes on the Supreme Court could include two big topics affecting the man who appointed her. The court is weighing a plea from Trump to prevent the Manhattan district attorney from acquiring his tax returns as well as appeals from the Trump campaign and Republicans to shorten the deadline for receiving and counting absentee ballots in the battleground states of North Carolina and Pennsylvania. It's not certain Barrett will take part in any of these issues, Mark Sherman reports.
Barrett Ad Spending: Her confirmation is the culmination of a coordinated effort by conservative groups over decades, fueled by tens of millions from wealthy anonymous donors, to tilt the high court farther to the right. At the forefront has been Judicial Crisis Network, which has spent at least $6.3 million in five weeks on national television spots. The ads have sought to frame any questions about her involvement in a charismatic religious community that opposes abortion as attacks on her Christian faith, Michael Biesecker and Brian Slodysko report.
Muslims in the Middle East and beyond are calling for boycotts of French products and for protests as a clash over depictions of the Prophet Muhammad and the limits of free speech intensifies.
The issue has erupted once again after the killing of a French teacher near Paris who showed caricatures of the prophet, which Muslims consider blasphemous, in a class to discuss free speech.
French President Emmanuel Macron has vigorously defended such depictions as protected under the right to free speech. At a memorial for the teacher last week, Macron said: "We won't renounce the caricatures."
That has drawn angry criticism from many Muslims, reports Aya Batrawy from Dubai.
Kuwaiti stores pulled French yogurts and sparkling water from their shelves, Qatar University canceled a French culture week, and calls to stay away from the Carrefour grocery chain were trending on social media in Saudi Arabia and the United Arab Emirates. Protests have been held in Turkey and Gaza and Pakistan's parliament passed a resolution condemning the publication of cartoons of the prophet.
The growing confrontation is raising political tensions between France and some Muslim-majority nations and could put pressure on French businesses.
A powerful bomb blast has ripped through an Islamic seminary on the outskirts of the northwest Pakistani city of Peshawar, killing at least seven students and wounding 112 others. Police say the bombing happened while a cleric was delivering a lecture about Islam at the Jamia Zubairia madrassa. Police say the bomb went off minutes after someone left a bag at the madrassa. Several of the wounded were in critical condition and hospital authorities feared the death toll could climb further.
California braced for another round of fire danger from gusts even as crews battle two southern blazes that have left more than 100,000 under evacuation orders. Strong winds and dry humidity are expected to return. Red flag warnings of fire danger are set around the state. In the south and a fire in Orange County critically burned two firefighters and is raging near thousands of homes in and around Irvine. A smaller blaze is burning nearby. In the north, portions of the San Francisco Bay Area could see gusts.
Vietnam is scrambling to evacuate more than 1 million people in its central lowlands as a strong typhoon approaches while some regions are still dealing with the aftermath of deadly floods. State media said Typhoon Molave is forecast to slam into Vietnam's south-central coast with sustained winds of up to 84 mph Wednesday. It left at least 3 people dead and 13 missing in the Philippines.
The 27th named storm in a very busy Atlantic season, Hurricane Zeta made landfall on Mexico's Yucatan Peninsula while whipping the resorts around Tulum with rain and wind. Zeta is predicted to lose some power while crossing the peninsula, before regaining hurricane strength in the Gulf of Mexico today. It is heading for the central U.S. Gulf Coast and a likely landfall Wednesday night.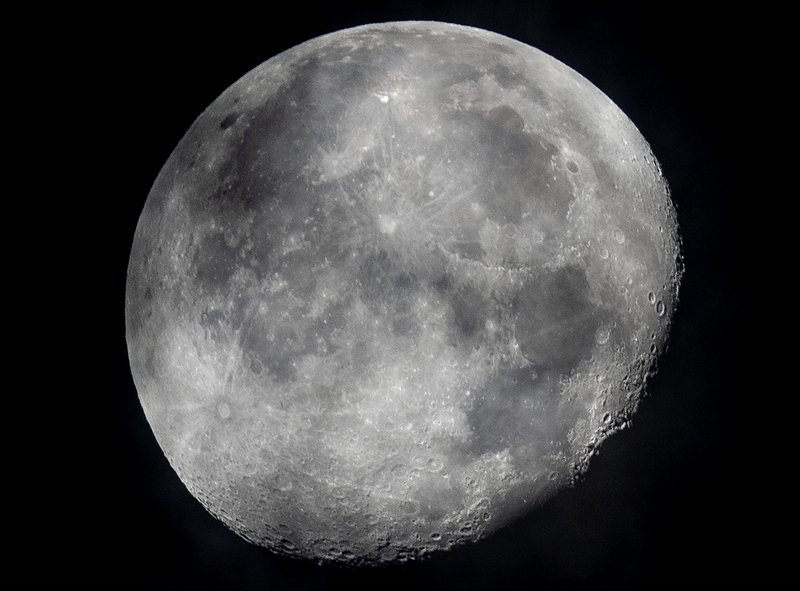 GET THE APP
Download the AP News app to get breaking news alerts from AP on your phone, tablet or watch.
Unsubscribe About us

2020 THE ASSOCIATED PRESS. ALL RIGHTS RESERVED.

200 Liberty St. New York, NY 10128